From Steve Anderson a few days ago, this cute story (by Seth Rosenthal on June 20th) from the world of basketball, on player Boogie Cousins:
Hero child nutmegs DeMarcus Cousins, then scores in his face

This is Boogie's "DeMarcus Cousins Elite Skills Camp," and it's the typical session in which campers get to attempt scoring on the 7′ basketball man. Cousins obviously isn't trying very hard to start the exchange, but then the kid successfully puts the ball through his legs and Cousins spins around with what looks to me like a genuine effort to block the reverse finish … but it's got juuuust the right arc to soar over his fingers and drop in! And the crowd goes wild!
Video in the story. Still shot of the aftermath: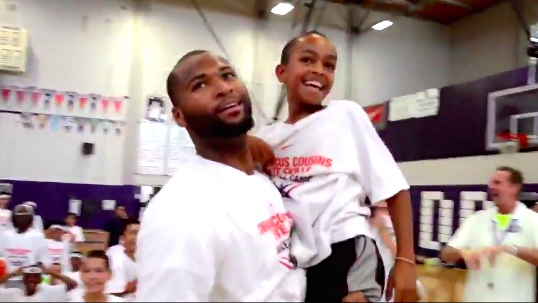 (#1)
Ah, the verb nutmeg.