(Almost all about art and sexuality.)
From Amanda Walker, a pointer to this Gawker posting about some forthcoming Finnish stamps: "Finland's New Stamps are Drawings of Gay Bondage Porn" by Jordan Sargeant on April 15th. Two illustrations:
(#1)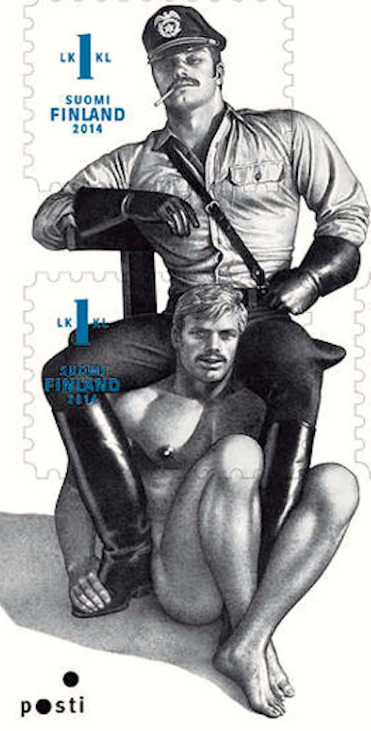 (#2)
Neither image shows genital nudity, but both are intensely homoerotic, and it's hard to imagine either one on a U.S. stamp. It's not clear that either image is actually of gay bondage. #1 simply shows homoerotic imagery; #2 shows dominance and submission, and strongly suggests sadomasochism,  but not (here) bondage. (Other ToF drawings do show bondage, some show male-male affection, and a fair number are humorous.)
On Touko Laaksonen ("Tom of Finland") on this blog, see here.
(I've posted stronger stuff onToF on AZBlogX, but I despair of finding the links; the program LjSEEK rarely finds anything I search for.)
The stamps will go on into circulation in August of this year.
xx